Topro Olympos walker
The tough off-roader
This lightweight folding walking frame with seat offers increased safety and comfort for users that are after a tough and practical rollator for an active life. With large front wheels, Olympos provides reliable and comfortable support on uneven roads and cobblestones as well as on sand or gravel foundations. The perfect choice for outdoor activities. However, is also suitable for indoors.
Wider built to secure stability in an outdoor environment.
Large and shock-absorbing tyres to enable a comfortable ride and maintain easy maneuverability in rough terrain.
This walking frame comes with a detachable spacious bag, backrest, reflective panels and backrest.
User height 150cm – 195cm, user weight max 150kg, product weight 8.9Kg
Edge guard
The unique edge guard feature prevents the walker from catching on furniture legs and doorframes, making maneuvering easier.
Detachable Bag
Detachable spacious water-resistant shopping bag with a reflective band and zipper. Closeable and holds up to 15Kg.
Compact
The rollator can be collapsed with one hand and secured with the lock clamp. This walker will never be in the way and easily travels with you. You can even navigate small spaces by semi folding the walker and safely walk with it. Ideal for narrow passages, restaurants etc.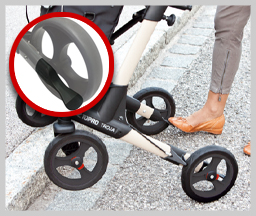 Tilt Assistance
The tilt assistance function gives the foot a wide area to step on and tilt the walker up to navigate kerbs while keeping both hands on the rollator for safety.
Mounting of Crutch Holder
| | |
| --- | --- |
| Max user weight | 150Kg |
| Recommended user height | 150-195cm |
| Handle height | 79-95cm |
| Seat Height | 60cm |
| Diameter turning circle | 94cm |
| Grip distance driving brake | 6.5cm |
| Width when folded | 26.5cm |
| Length max | 76cm |
| Width max | 70.5cm |
| Width between handles | 50cm |
| Wheel diameter | 27.5/22.5cm |
| Back support | Yes |
| International Standard Compliance | NS-EN ISO 11199-2 (Rollator Std) EN ISO 10993-5 (Bio-compatibility) NS-EN ISO 9001 (Quality assurance) NS-EN ISO 14001 (Environmental) |
| Weight (including bag and wheels) | 8.9Kg |
Tray
$ 57.00 incl GST
| Description | Product order code |
| --- | --- |
| Tray | XTO814728 |
LED light
This clip light can be clipped anywhere.
$34.00 incl GST
| Description | Product order code |
| --- | --- |
| LED light | XTO815260 |
One-handed brake
$ 34.00 incl GST
| Description | Product order code |
| --- | --- |
| One-handed brake | XTO814026 |
Cane/Crutch holder
$ 23.00 incl GST
| Description | Product order code |
| --- | --- |
| Cane/Crutch holder | XTO814025 |
Bottle Holder
$ 23.00 incl GST  Excl Bottle
| Description | Product order code |
| --- | --- |
| Bottle Holder | XTO814043 |